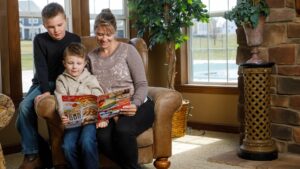 We Make it Easy for You!
Full-Service Catalog Fundraisers
Stress-Free for Your Volunteers

Friendly Personalized Service

Customized for Your Unique Group
1-800-221-8889
Choose from over a dozen proven fundraising catalogs and brochures for your school, church, or youth group's next fundraiser. With no up-front cost to your group, brochure fundraisers are low-risk and easy to implement. They also continually produce the highest profits for the groups.
Our fundraising professionals, with over 25 years of experience, will help you choose the right brochure fundraiser for your group and provide you with personalized service each step of the way. From kickoff assemblies (in-person or virtual) to get your group excited to expert tips for sale success, to planning an easy delivery day, working with our team will take the stress out of fundraising!
Brochure Fundraising Services At A Glance:
Assistance Selecting the Perfect Fundraising Brochure
High-Quality & Locally Made Products
Exciting Prize Programs
Local or Virtual Kickoff Assemblies
Custom Parent Letters
Online Ordering Option for Increased Sales
Order Tallying & Packaging Per Student
Promotion & Timing Assistance
Detailed Sales Reports
With hands-on assistance from our fundraising team, we've helped groups raise well over $25,000.00 in profits on a single fundraiser. Contact us today to learn how we can help your group.
Brochure fundraisers are perfect for schools, sports leagues, daycare centers, dance, and gymnastic groups, scouting organizations, student associations, and student trip groups.
Browse Fundraising Catalogs & Brochures