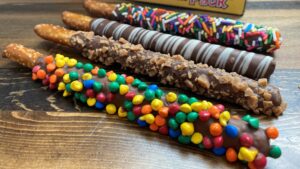 Let us help with a full-service candy fundraiser
Candy Fundraisers
We'll Help You Pick the Right Product

Our Program Helps You Sell More

No Upfront Costs for Approved Groups
1-800-221-8889
Kick Your Profits Up a Notch with a Full-Service Candy Sale
Let us help you make your next candy bar fundraiser a success and maximize your school, sports league, church, or youth group's profits. At a low cost-per-item, candy fundraisers continue to be an easy sale and guaranteed money-maker for groups.
We will help you choose the right candy, determine the size of your first order, keep you re-stocked as inventory gets low and we will pick up unopened candy bar cases for full credit at the end of your sale! Candy is personally delivered by our staff where you want it when you want it.
Candy Fundraisers At A Glance:
Earn up to 50% Profit
Assistance Selecting the Perfect Candy Fundraiser
Packaged in Convenient Carriers
Assistance Structuring Exciting Prize Programs
Local Kickoff Assemblies
Custom Parent Letters
Promotion & Timing Assistance
21 Days Credit for Approved Groups–No Upfront Cost
Pre-Scheduled Delivery Date & Time
With hands-on assistance from our fundraising team, we've helped groups earn between $10,000 and $20,000 profit on a single candy fundraiser.
Explore or Purchase Fundraising Candy Products