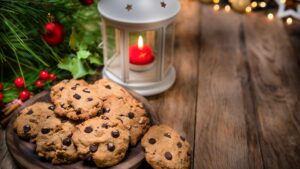 From the Rusty Creek homestead to yours
Our Favorite Fall Fundraiser
Our Favorite Products Including Many From Local & Family Businesses

Non-frozen for Easy Delivery

Order Tallying & Packaging Per Student
1-800-221-8889
Rusty Creek Homestead Favorite's Average Item Cost is Only $16
Rusty Creek Homestead Favorites features 12 pages of our favorite products with an average price of $16 each. It's also a favorite of our customers!
This fundraiser brings together items from across the United States from delicious fudge made in Medina, Ohio to succulents grown in Alliance, Ohio to hand-poured candles crafted on a family soybean farm in Illinois.
You will love Rusty Creek Homestead Favorites because it can be run as a traditional brochure fundraiser or completely online. All items are non-frozen or shelf-stable and can be shipped anywhere in the lower 48 states, even the cookie dough!
Rusty Creek Homestead Favorites Program Highlights:
Easy, Stress-Free Fundraiser
Affordable Products People Can Use
No Upfront Costs
Earn More With Catalog & Online Ordering
Order Tallying & Packaging Per Participant
Free Shipping
Exciting, Customized Prize Programs
Expert Fundraising Assistance
Earn 40%+ Profit!
Rusty Creek Homestead Favorites is exclusively offered by Diamond Fundraising with a mix of tasty foods and snacks along with kitchen gadgets, wrapping paper, and home items. It works great for whole school sales along with music, band, sports, church, and extracurricular organizations.
---
Catalog Fundraiser FAQ
How We Make Fundraising Easy

Service You Can Trust: Diamond Fundraising is a local, family-owned business with offices in Warren and Alliance, Ohio. We provide all of our customers from large schools to small church groups with dependable, on-time, honest service. And we stand behind our products. Our goal is to provide you with an easy-to-implement, high-quality fundraiser that helps you reach your fundraising goals.

Expert Fundraising Assistance Maximizes Profits: Diamond Fundraising's team puts our 25+ years of fundraising experience to work to help your group maximize profits. Your dedicated fundraising expert from our team will be onsite with you every step of the way, from planning the timeline of your sale to customizing a rewarding prize program, kickoff assemblies, and delivery day.

School groups that follow our proven fundraising techniques regularly raise well over $20,000.00 in profits on a single fundraiser.

Distribution Made Easy: At the end of the sale, all order forms are emailed to us to be tallied and then packaged by student. You will receive detailed reports featuring total sales and sales by student. On your pre-scheduled delivery day, your dedicated fundraising expert will be onsite to assist your group with the easy and seamless distribution of products.

Exciting Prize Programs: Nothing gets groups more motivated to sell than an exciting prize program. Each year we look at trends in the market to provide prize options that are sure to get kids excited like bombarding the principal with silly string, drones, Nintendo Switch video game systems, field trip events, and the ever-popular money machine!

Plus, we customize the prize program for your unique group to reward students and keep parents happy.
How We Make it Easy for Your Shoppers

Shoppers can purchase items from the catalog using the included order form or purchase online. Online ordering helps increase sales from out-of-town friends and family who can have the items shipped directly to their homes. It also allows local friends and family to pay via credit card.

Items ordered online can be shipped directly to the shopper or shipped to the school at no additional cost and children still receive credit towards prizes. Online ordering also provides access to over 200 additional items and exclusive offers!
How to Start Your Fundraiser – It's Free

Getting started is free and easy! There are no upfront costs for your group. We provide brochures, order forms, parent letters, and kickoff assemblies (live or virtual) at no charge to groups. Simply contact us to get started.
Brochure & Catalog Fundraiser FAQ

How will the fundraising items be shipped to the school?

Orders will be shipped via delivery truck at a predetermined date and time. Your dedicated fundraising expert will be onsite with you to meet the truck and set up for parent pickup.

Can online orders be shipped anywhere?

Due to the nature of our products, we only ship in the United States to the lower 48 states. Our frozen products are available in most areas, but you should call to ask about your area if you are concerned.

I've never run a fundraiser before. How do I get started?

The easiest way is to contact us online or give us a call at 1-800-221-8889. We can offer assistance and helpful hints based on our 25+ years of fundraising experience to help you kick off a successful fundraiser. When contacting us, be prepared with information including how many group members will be participating and the dollar amount your group is trying to raise.

How much money can we expect to earn?

The amount of money that you earn will depend on several things:

– The number of participants selling products.
– The type of product your group chooses to sell.
– How many products your group chooses to sell. For example, we have many groups that take orders for candles while selling their candy. This helps them to maximize their profit potential!

Is there a difference between fundraising distributors?

Yes, there can be many differences between Fundraising Distributors. We suggest you contact several and compare their programs. Be sure to ask about payment terms, shipping procedures, incentive programs, and the percentage of profit your group can earn. Do your homework, we think you will find that Diamond Fundraising offers a profitable program with our assistance for your group from beginning to end!